The LAGE Design office is located in Southern Nevada where we have been providing landscape architecture services for the past 17 years with a well-defined sense of place. We are well versed in the opportunities and challenges of practicing in an arid climate. LAGE Design has provided landscape architecture services on projects throughout Nevada, working with both public and private clients. This work has given our team a firsthand understanding of coordination and regulatory issues. We have provided consulting services in a wide variety of regulatory arenas, bringing a working knowledge of ever-changing laws and regulations that involve resolution strategies at all levels of project development and management.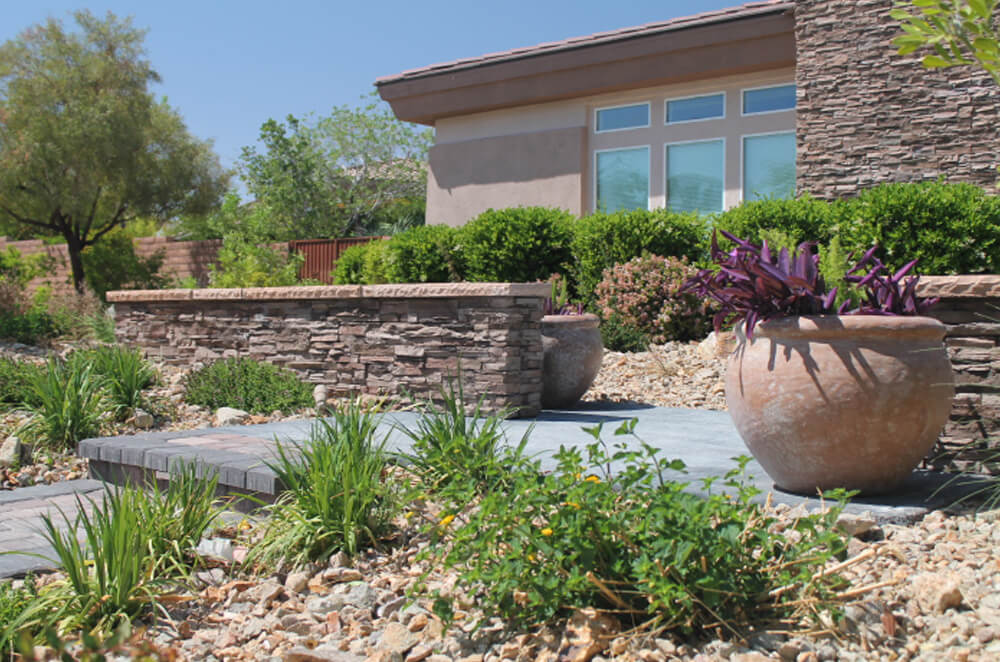 The LAGE Design team regularly works with federal, state, and local private and public agencies. We embrace a philosophy of striving to understand our clients' needs and integrating them into a functional and aesthetic design. With a broad range and depth of experience, we provide a high level of attention to detail and responsiveness helping to ensure that projects are complete, on time, and on budget. We maximize aesthetic opportunities and bring thoughtful, efficient, and sustainable solutions to projects. We carefully evaluate existing conditions and identify opportunities to enhance the overall project character and goals. We work closely with clients through the conceptual planning stage to address issues and needs to help arrive at a final design concept and then proceed with preparation of final construction documents. We believe that public presentations and outreach play a crucial role in the success of any project and our team is available to attend and participate in public and stakeholder meetings, provide graphics, technical assistance, and answer questions.
We pride ourselves on providing high levels of responsiveness so that projects are accurate, delivered on time, and on budget. Our experience has prepared us to rapidly, efficiently, and economically execute work. Our team has demonstrated exceptional organizational and coordination skills through the successful completion of landscape architecture projects. We are proud of our established reputation of commitment and 'hands on' project involvement.
MANAGEMENT PHILOSOPHY and APPROACH
Our team has a long history of working closely with our clients to deliver projects that meet the highest standards for value, design excellence, and constructability. Our key team members include six Nevada-licensed Professional Landscape Architects with extensive experience on park and urban landscape architecture design projects.
LAGE Design brings a wealth of design experience to each project. Our team members have worked on some of the largest and most complex projects ever undertaken in the state. From traditional design-bid-build projects, to those utilizing alternate delivery methods, such as design-build and CMAR, we have a proven track record of delivering projects of superior design that are on-time and on-budget.
Collaboration and Communication
Close collaboration, both with our clients and internally, is a vital component to any successful project. It is this philosophy that promotes successful and meaningful projects for our clients and the community. The collaborative methodology employed by our team revolves around a commitment to a constant flow of information between all involved in the design process. To insure the most effective and efficient means to achieve the project's goals, our collaborative format emphasizes open communication within the design team, consultants, client, stakeholders, and the community.
Internally, our continuous upgrades to our suite of design, review, and communication software allows our team to be on the cutting edge of technology and enhances our effectiveness. Our use of the latest technology and programs, such as Teams for conference calls, Bluebeam for sharing and reviewing document redlines, and Projectwise servers for the storing and sharing of project files, allows our team to instantly and effectively share information and review documents.
Our team is experienced in dealing with stakeholders, special interest groups, and concerned citizens on high profile and politically sensitive projects. The Veterans Parkway CMAR project in Reno is one such example. Our client, the RTC of Washoe County, was facing considerable public opposition from surrounding neighborhood committees and HOA's regarding a planned arterial road. Our willingness to listen to stake holders, our open design process, and frequent public meetings were instrumental in gaining public approval despite the objection of a vocal minority. Our approach to sensitive projects was especially effective on the F Street Re-Opening project in Las Vegas. Numerous design charrettes and public meetings were held in order to gain the trust and understanding of concerned citizens. Our approach was so successful that Trish Geran, Chairwoman of the F Street Coalition, specifically praised our team for grasping "…what we wanted so much to say to the world but at times fumbled."
RESPONSIVENESS TO PROJECT NEEDS
LAGE Design is confident of our ability to meet staffing needs for any project. We will provide a talented team of design professionals on which to rely for any project. We can draw upon the talents and experience of the six Nevada-licensed Professional Landscape Architects, skilled graphic artists, and dedicated production specialists that we have assembled. This breadth of resources affords us the opportunity to be available to respond at a moment's notice to any and all project needs.
BUDGETING, SCHEDULING, and
QUALITY ASSURANCE PROCESSES
We pride ourselves on providing a high level of responsiveness to our clients, ensuring that projects are accurate as well as delivered on-time and on-budget. Our experience has prepared us to rapidly, efficiently, and economically execute work. All of our projects have been completed on-time, on-budget, and without costly change orders. We have accomplished this through a process of constantly monitoring and updating both budgets and schedules as our projects progress. This, coupled with our commitment to communication, creates no surprises when projects are advertised for bid.
Delivering a project free from costly errors-and-omissions is one of the cornerstones of the Lage Design philosophy. Each team member is charged with ensuring that every project meets the highest quality standards. As part of our commitment to Quality Assurance (QA), we will develop a Quality Control Plan and assign a dedicated Design Quality Manager for each project. The design review process will include Quality Control (QC) reviews by both the Project Manager as well as an independent review by a Professional Landscape Architect.
At the start of each project, the project team will prepare and submit a Quality Control Plan (QCP). The QCP will detail the design quality checks that are to be performed prior to any submittal and identify individuals that will perform each design check. The Lage Design team will use a proven 5-step, color-coded system. A detailed description of the steps and the persons responsible for completing each step will be included in every QCP plan submitted.
Each project will have a Design Quality Manager (DQM) assigned whose sole role is to ensure that the established quality control checks have been accomplished in accordance with the QCP. No documents will be submitted without the DQM certifying that the proper quality control checks have been completed.
Detailed Design Checks | Independent Reviews
Our team will utilize a two-part procedure for ensuring that submittals are accurate. Detailed design checks will be performed by the project manager prior to any submittal. These checks will confirm that the document is at the appropriate level of completeness and is constructible. In addition to these design quality checks, an independent review (IR) will be performed on each submittal by a Professional Landscape Architect licensed in the state of Nevada. The object of this system is to provide a design accuracy check and a "second set of eyes" so that the documents we deliver are clear, complete, and correct. The IR reviewer will be familiar with the project, but will not be involved in the day-to-day design decisions.